Finally a day off...I just worked the last five days at Hog's Breath Cafe. Although, I wasn't working 8 hour days, my body felt pretty tired at the end of each shift. Non-stop walking and moving around for four or five hours straight will take some getting used to. I'm getting better at it. There are just so many things to think about, so it is all about juggling those things in your mind and being on top of who needs what. Little things like punching in the orders on the computer or making a credit card transaction are things I never did before. I will send some pictures soon of this place. (The picture above is where I work, the restaurant is directly to the right of the parked car out of view) It really is an amazing view. It is pretty much right on the beach, so all day as I'm working, I can see waves crashing, people surfing, etc. I did spill a coke on a table with guests present on my second day. So far that's the only mishap really. Luckily I didn't spill it on them.
My NCAA bracket luck ran out this weekend. It was exciting to be in the running for this long. I usually am in the middle of the pack from the get-go. Its the gambling that makes it fun. I really could care less who wins.....or is it I couldn't care less. Right.
Steve, my roommate invited me the other day to go on a Skiing/snowboarding trip to New Zealand in August. He said it would cost about $1,500 Australian dollars....which I see is about $1,040 US dollars. BUT the Aussie dollar is much better than the NZ dollar. ,So that would help, maybe making it less than $1000 USD. He said it is an 8 day trip, and we wouldn't ski everyday, but a few of them. Being so close to NZ, I think I should start saving for the ski trip. And yes, I went snowboarding once in my life in Breckenridge CO in January, 2000. I realize I am nine years older and more prone to injury now, but trust me I would be careful.
About to talk a little bit about the show 24. I do give a key detail about something that happened in season 3. So if you still intend on watching 24, seasons 1-7, you might want to skip this paragraph. Watched another episode of 24 last night. That Jack Bauer, what a guy! Here in Australia, we are only up to 5pm. I think you in the states are a good four or five episodes ahead of me. Anyway, in the 4pm-5pm episode, the head of the FBI dropped the name Ryan Chappelle, who was a character back in seasons 1-3 (see wikipedia Ryan Chappelle) and made the most memorable exit of any character in possibly any show I've ever seen. I like when shows reference something that happened years ago.
Believe it or not, Jack never recharges his cell phone - ever.
On facebook these days, there is an application that allows you to list your top 5 cars, books, movies, shows, celebrities, etc. It is addictive as I love lists. I'll share a few with you.
For top 5 Sit-coms, I put (in no particular order): Taxi, Cheers, Seinfeld, Frasier, Everybody Loves Raymond...Raymond is kind of the weak link there, but it is about my favorite.
Jim Ignatowski: Cab Driver (What does a yellow light mean? SLOW DOWN!)
Top 5 Movies was a tough one: The Breakfast Club, High Fidelity, Scent of a Woman, Back to the Future...and the fifth one is debatable, but I put Planes, Trains and Automoblies. It is too difficult to pick 5. I'm not a Godfather expert either, so it can't make my list.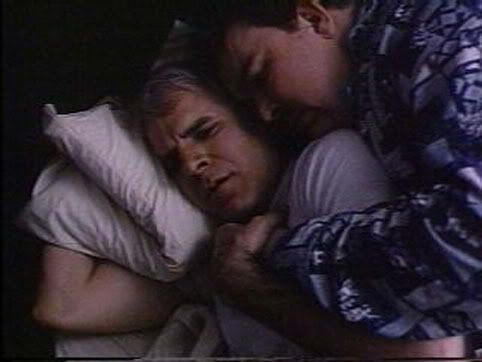 Planes, Trains & Automobiles: Those aren't pillows!
Top 5 Beers: Easy....just pick 5 Anheuser-Busch products. That one has been pounded into my brain since the first grade....see pic below.
Alright, off to inline hockey in a few hours. See ya.
UPDATE: Just realized that all four of my final four teams are out. I don't think I've ever not had at least one. That makes me laugh a little because I previously stated I was doing pretty well.
Also, just reading about Tiger Woods victory at the Arnold Palmer Invitational. I miss watching golf on Sundays...