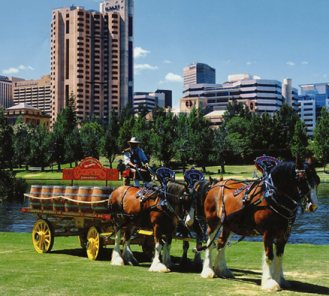 For the few days I will post a blog each day about my Adelaide and Melbourne trip. Pictures will be included in the blog on Thursday.
Friday was another fun day in Adelaide. I slept until about 9am, then woke up and walked across the street to have a coffee and egg sandwich at a small café. I returned to the hostel and remembered seeing a sign advertising free pancakes every morning. So after my egg sandwich, I went and feasted some more on pancakes that the YHA staff were serving. They tasted great, however, there was no maple syrup. They had sugar, butter and jam to put on them. After applying the three to my pancakes, they tasted great. Good to know in the future when I'm stuck without maple syrup.
After breakfast, I had a couple hours before my Cooper's Brewery Tour started at 1pm, so I headed out on foot to explore Adelaide. During breakfast, the weather had been very dreary, but as I left the hostel, the skies opened up and the rest of the day was the sunniest one I'd experienced that far into the trip.
Adelaide only has 1.2 million people. It's an easy city to walk around in. I found a popular tourist spot, the Runnel mall. It is an outdoor mall area , much like one you'd find in Boston. I walked into a few stores, but didn't purchase anything.
Around 12:15, I grabbed a taxi cab out to the Cooper's Brewery property at Regency Park. The property was gorgeous. I always love how major companies take care of their lawns. I had about 30 minutes to wait until the tour started and ended up missing the first 5 minutes because I was waiting in the wrong area. No worries though, I didn't miss much.
Frank was our tour guide. He was very informative, but a little cocky. Then again, I never really met a beer man who wasn't a little cocky. He, after all, was just very proud of being a Cooper's man.
The Cooper's Brewery has a driving range for its employees to use during lunch. Frank mentioned that not many people use it, but it looks amazing.
Most of the two hour tour was spent walking around the brewery learning about the science of making beer. Honestly, there was so much science that some of it went over my head. Brewing beer is a very complicated process! And I consider myself someone who knows a thing or two about beer.
Seeing the product bottled always fascinates me. 1000's of bottles passing by me in just seconds. Any factory or assembly line is kind of has me in a trance, the non stop production of so many bottles of beer.
The final part of the tour was going to the Cooper's Brewery Museum which was a building with many artifacts from Cooper's history as well as a gift shop and tasting center. This was obviously, the part we'd all been looking forward to! We sampled five or six different Cooper's beers, and probably ended up having at least four glasses a piece each, so no doubt, I could feel the effect of the beer when I was finished. But it didn't matter really because I wasn't driving.
When we arrived at the final part of the tour, I was somewhat excited to buy some Cooper's merchandise after I found out that the wholesaler I used to work for back home started selling it or is considering taking it on as one of its products. But Frank, as he did all day, really talked down about the competition, in a kind of comical light. But he went after Fosters, South African Breweries and especially Budweiser, calling the beers rubbish. Like I said, he represents the little beer man out there and of course doesn't have great things to say about beers like Budweiser and Miller, but I couldn't help but feel a bit defensive due to the fact that I grew up around the Anheuser-Busch label. So after hearing him bash AB long enough, I decided I'd buy just a hat instead of shirts and other apparel. Funny, there was also a pair of gentlemen from South Africa in the tour group too.
We also received a free Cooper's glass for being a part of the tour.
Towards the end of the tour, I found out there was a mother and son in the group from Providence, Rhode Island. They were very kind and had wondered if I was from the US as well because I was wearing a Boston Red Sox cap and a Budweiser t-shirt. The son had been over here a couple months and was going to be attending RPI in New York State this fall.
They were so nice in fact that after the tour, they offered to bring me back to the city. That was a fun ride back talking to New Englanders. The son said the word "wicked" once or twice and that made me smile.
The Rhode Islanders were only going as far as North Adelaide so they dropped me off and it was about a 30-40 minute walk back to the hostel. I was psyched to walk though because I was feeling the effects still from the brewery. I asked one couple how to get back to the city and they pointed me in the right direction, but I kind of had to laugh because the city skyline was obviously visible from where I was asking them. They must have thought I was high. I just hadn't noticed.
That night, I went out to dinner with Shannon, Sean, and also Shannon's sister and boyfriend. The restaurant was called Boho. It had a really cool interior that looked like a dark circus tent. Unfortunately the service was really bad. Especially with the drinks and meals being outrageously expensive. It was a good time but it's never fun to have lousy waiters.
After dinner I said my goodbyes and headed back to the hostel.
I didn't think my last day in Adelaide would be very exciting, but it ended up being a great time. I met up for lunch with Shaun Filiaut, another Keene, New Hampshire native. Shaun is a professor at one of the universities in Adelaide. He brought his roommate with him also and they showed me a great time. We had Chinese food for lunch down at the Markets, which is a huge market really. They then showed me around town and brought me to Adelaide's famous Haige's Chocolate Factory.

After that, they showed me a fun outdoor mall, and a popular board walk right on the ocean. Finally they had a couple Cooper's beers with me at the airport before my plane left for Melbourne. It was truly a great way to end the Melbourne trip. The two of them will be in Keene this winter so I will have to meet up with them again.

My flight to Melbourne was only 45 minutes and landed around 7:30pm. I slept most of the way. Right before I was to exit the plane I talked to the young guy next to me about how to get to the city and he offered to bring me to my hostel. His name was Sim, and his buddy Shannon was up in Melbourne buying an expensive Audi. They were going to spend the night and drive the 14 hours back to Adelaide the next day.

I'm thrilled that I spoke up because the rest of the night was one of those unique ones in my life. The guys brought me to my hostel and because they didn't have a place to stay, booked a room for themselves. Then they invited me to go out on the town with them.

We went to a casual corner pub in North Melbourne for dinner, then went back to the hostel to change. Because I didn't have classy enough footwear to get into some of the nicer clubs, Shannon lent me an extra pair of black shoes he had in his trunk.

The rest of the night was a lot of fun. I don't really have the energy to go into every detail, but we did go to a huge night club, as well as the Crown Casino and didn't end up getting back to the hostel until 5am.

I woke up around 9am the next morning, hurting a little bit, my body ached and my wallet was a little light. I learned fast how expensive Melbourne can be.

Sunday morning I had some breakfast at the hostel, then said my goodbyes to Shannon and Sim. They didn't wake up until about 10:15.

My goal for Sunday was just to explore the city of Melbourne and spend as little as possible. Some advice other travelers had given me was to just go exploring. Luckily, there is a free Tourist Shuttle that goes in a constant loop around the city. Another shuttle comes along each of the 13 stops every 25 or 30 minutes. I made it to a few of the stops that interested me that day.

I paid $16 to go to the top of the tallest building in the Southern Hemisphere. It was only okay. I guess I have the same feeling about zoos as I do climbing tall buildings. But I did get to see amazing views of Melbourne from all sides. This building, the Eurkea Sky Deck isn't as tall as the Sears Tower, The Empire State building or even the Space needle. But being up 88 floors is impressive. The special feature about this structure is that up on the 88th floor, there is a platform that extends out from the side of the building 10 feet, so you can look straight down. That was another $12, so I decided not to dish that out, I just imagined what it would look like.

After I left the Sky Deck, it was lunch time and I stumbled upon a food court that had a pancake restaurant. That's all they served! I ordered the berry pancakes. It included two large pancakes covered in blueberries, blackberries and strawberries, as well as whipped cream and a lot of maple syrup. This made my afternoon.

The rest of the afternoon, I walked around the arts district and just took in the scenery. Melbourne has amazing architecture. I was impressed with how funky so many of the structures are.

Around four or five I was exhausted, especially after getting only a few hours of sleep the night before. I also didn't want to spend more money that day, so I went back to the hostel. I checked out their movie list and found Uncle Buck! I spent the next couple hours watching that in the public lounge. Nobody came in so I had the room to myself. It was nice and relaxing. Later in the evening, I watched another movie, Marathon Man with Dustin Hoffman. I'd never seen that before and it was pretty good.

I went down to the kitchen to see if they sold any dinner. I had a small tomato, cheese and garlic pizza for $6. Then I was off to bed. Exhausted.

(If you haven't noticed, my description of Adelaide vs. Melbourne is like night and day. The constant moving around is catching up with me and my energy level is low. I think because I had some people to share my experiences with in Adelaide, I am having trouble being as excited on paper about Melbourne. Melbourne is a wonderful city, don't get me wrong, it's just that travel is always best when you have someone to share it with.

Tomorrow: Melbourne Day 3 and departure day back to Sydney.