Uh-Oh...it happened. My favorite NHL team since I was a child, the Carolina Hurricanes (formerly known as the Hartford Whalers), are playing in the Eastern Conference Semis this weekend against the Boston Bruins. You know, that other team that 9 out of 10 New Englanders root for.
Today I'm going to talk a bit about the Boston/Hartford rivalry, my history with the Whale and a little more about the Hurricanes.
Let's go back....
In 1979, well before I was thought of, a hockey team known as the New England Whalers of the World Hockey Association joined the National Hockey League and became the Hartford Whalers. For the seven years that the New England Whalers existed, they never missed the playoffs.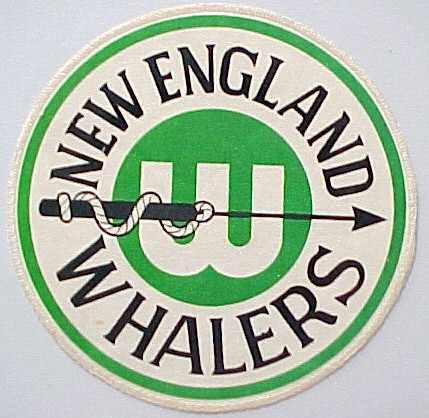 Things would soon change For the next 18 years, the Hartford Whalers had just three winning seasons and made the playoffs eight times.
Sometime during that 1986 or 1987 season I became a fan of the Whalers. Why you ask? Why would I root for a team that wasn't very good, when a team from Boston was making Stanley Cup final runs? That's a tough question. I think in some ways I liked rooting for the underdog. But at 7 years old I can't imagine I was too aware of what an underdog was. It may sound simple, but they had awesome uniforms. The combination of blue, green and white...matched with what I still think is the best team logo in sports history had me hooked. If you've never looked at the logo of the Hartford Whalers, notice how the Whale Tail and the W placed together form an "H".
So I was hooked on the Whalers. Now this next part I just have to put out in the open even though it has nothing to do with hockey, but more to do with green uniforms. Around that time of the mid 80's, I also was rooting for the NFL's Philadelphia Eagles. This was definitely because of the green uniforms. I wasn't really aware of New England sports pride at the time, and I definitely didn't realize how unlikable Philly sports fans were. So even today, I kind of give myself a hard time for rooting for the Eagles and not sticking with the awful Patriots. I think my last year of rooting for the Eagles was around 1994, so no, I didn't jump on the Patriots bandwagon in 2001. I came to my senses and realized that being a New Englander means sticking with your team through the good times and the bad times.
And let's not forget, the Whalers were from New England, so I was not breaking any rules there.
Back to the Whalers. I probably went to six or seven games in Hartford from 1990-1997. It was always a ton of fun. My dad would drive me and a few friends, usually for my birthday. I don't remember them really winning any of the games, but they were still a ton of fun. One time I had my mom tape the game and somehow we had first row seats. I had made a sign that said "GO WHALERS!" and I think I saw it at one point while watching it later on the VCR.
I mentioned that they missed the playoffs 10 times out of 18 years. But from 1986-1992, they did manage to make the playoffs. And those are my fondest and most vivid memories of the team. So I guess you could say during my tenure as a Whalers fan, they weren't always terrible.
I was so much of a fan that when I was in the 8th grade, I captained an intramural floor hockey team and instead of naming it a normal team name, I called it Hartford. On the morning news bulletin after each time we had a game, I heard on the P.A. "The 8th grade Hartford beat the Bruins." Not that you really care, but that team was awesome! During the draft, I decided to pick every bully, trouble maker, tough guy, or athlete I could. This was a great strategy because (A) we intimidated the hell out of the other team, and (B) half of them were always in detention, so I got to play more minutes. Yeah I think it was supposed to be a 12 or 13 person team but we always only had 8. I only had one of the girls show up usually too, so I put her in goal.
I read that the 1986 Whalers team had a parade thrown for them due to their winning one round in the Stanley Cup playoffs. That's not exactly a city used to going all the way.
Their biggest rivals were the Boston Bruins and New York Rangers because of the proximity of the teams. But when it came to the playoffs, I don't think the Whalers had a bigger rival than the Montreal Canadians. In 1986, 88, 89 and 92, Hartford lost to the Canadians in the playoffs. The most memorable would be a game seven, double overtime loss in the Adams Division semifinal to the Canadiens in 1992. I stayed up with my dad and watched both overtimes. It was one of the first times pro sports punched me in the stomach. That was the last time the Whalers made the playoffs.
When the Whalers scored a goal at home, they played this ships horn that was amazingly loud. It was such a celebration because it didn't happen very often! Check out this horn!
Another sound that is synonymous with the Whalers is the song The Brass Bonanza. This song was played at the beginning of each period and at the conclusion of all Whalers games. Check out how addictive it can be! (During the Carolina Hurricanes 2002 playoff run, I remember Chris Berman and his cronies at ESPN playing the song in honor of the state of Connecticut's only pro franchise)
The Hartford Whalers had several Hall of Famers play for them including Paul Coffey, Dave Keon (don't know him), Gordie Howe, Bobby Hull and Ron Francis.
Other talented players you may remember are Keith Primeau, Brendan Shanahan, Geoff Sanderson, Pat Verbeek, Sean Burke, Andrew Cassels, Kevin Dineen, Ray Ferraro, Glen Wesley, Chris Pronger and Ulf Samuelsson
Then there were names the true Hartford Whalers fans would recognize: Dave Babych, Steve Chiasson, Murray Craven, Randy Cunneyworth, Sami Kapanen, Dave Tippett, Curtis Leschyshyn, Goalies Jean Sebastian Gieguere, Mike Liut Frank Peitrangelo, and who can forget the name Zarley Zalapski. I know I can't.

A few of those names immediately come to mind when I think of the Whalers. Ron Francis was traded to the Penguins in the early 90's and won two Stanley Cups with them, but returned and finished out his career in Carolina, which included a finals appearance. He is 4rd all-time in NHL point leaders.
Kevin Dineen also played most of his days for the Whalers. In fact he scored the last ever goal in 1997 for the Whalers in a 2-1 victory over the Lighting. One crazy stat about Dineen is that he is one of only five players in history to score 350 goals and spend 2000 minutes in the penalty box.
Ulf Samuelsson isn't necessarily synonymous with the Whalers as he is with "cheap shots." Ulf is the person many hold responsible for ending Cam Neely's career as well as a couple other players. Neely was one of the star forwards for the Bruins in the 80's and early 90's. I don't have a lot of respect for Samuelsson, but he did play a fair bit of time in Hartford, so he gets a mention.
I found an article stating that Francis' #10, Dineen's #11 and Samuelsson's #5 were all retired, however I went to other sites that didn't mention them at all. This picture proves that they were indeed retired, I am just not positive if they stayed retired once the team moved.
In March 1996, the Whalers newest owner Peter Karmanos announced that he was moving the team. Prior to that announcement, there had been a couple years of negotiations that ultimately fell through. A unique situation with the Whalers owner is that he did not announce where the team was moving to! It wasn't until July that I found out the Whalers would become the Carolina Hurricanes for the 1997-1998 season. Bright red uniforms…yuck.

During the whole campaign to save the Whalers, I had a mini Whalers shrine in my locker at school. When it was finally announced that they were officially leaving, I had a countdown in my locker for 40 days or so until they were gone forever. I took the move very seriously.

That reminds me, I miss my Hartford Whalers memorabilia. I have it all at home: four Whalers jerseys, t-shirts, a Puck head (that's a hat in the shape of a puck!), key rings, pins, hats. My favorite item would have to be my corduroy Whalers had that I probably received around the time I was eight, and wore well into college. Now it has so many holes in it that I don't think it can physically be worn. Mom if you ever throw that away….

Now Back to the big move. As a Whalers fan, I had a big decision to make. Do I continue to root for the Carolina Hurricanes because they are really the same franchise, just with a new name? Or do I go and become a full on Boston Bruins fan? Well let's see here. The Whalers had been pretty good to me, making the playoffs 8 out of the 16 years I was alive. What about the Bruins? They haven't won a title since….1972. So there is no need to jump on any bandwagon there. My final choice was to stay with the Hurricanes and continue to support the Bruins when the two teams weren't playing each other.

The move was sad. I was bummed that there would be no more Hartford Whalers in existence. But as I grew older, I realized it was a business decision. And that's what pro sports are, a business. I've thought a lot about their move and to this day. I ask why, why did they have to move. And then I start to think from an owner's perspective. What's the first reason you move? MONEY. Obviously. Let's get rid of the awful Hartford Whalers and introduce hockey to a whole new fan base that will fill up the stadium. And secondly, Stanley Cups. Every owner wants a ring. And if you look at the Carolina Hurricanes brief history, you'll see one two finals appearances and one Stanley Cup trophy. And for that, I say good job. As a fan, I finally got a winning team.

That 2002 Stanley Cup finals which most of you don't remember because, let's face it, who was watching the NHL in 2002, was a great series even though Detroit beat Carolina in 5 games. There was an epic double overtime game that Detroit won and pretty much took the wind out of the Cane's sails.

That brings me to Bruins fans. How can you not be sickened that they haven't won a cup since 1972? Check this out. The Tampa Bay Lightning, Ottawa Senators, San Jose Sharks and Anaheim Ducks have all produced teams that have either won a Cup (TB and ANA), made it to the finals (Ottawa), or had the best record in the regular season (San Jose.) And those four teams mentioned have been around fewer than 20 years! So you know how I said the Whalers were so bad, well the Bruins, in my lifetime haven't given me much more to jump around about.

Before I get into the series later this week, I have to share my 2006 Stanley Cup Champion Carolina Hurricanes story with you.

At the time, I was working on the Carnival cruise ship Fantasy out of Florida. The Hurricanes were in the finals against the underdog Edmonton Oilers. Coincidentally, I was working with more Canadian citizens than I ever remember working with before. So we had some great trash talk going throughout the week. Carolina went ahead 3-1 and had the chance to wrap up the series at home. So I was pretty cocky the night of game 5. I wore my Hurricanes jersey to the crew bar, which if you've never seen this jersey, it is pretty hideous. But I wore it with pride! The game went into overtime and all I needed was a Carolina goal. What happened instead was that a shorthanded Edmonton team scored on an easy breakaway right away. I don't think I've ever received so much trash talk in my life. In fact, they chased me out of the crew bar and I was really ticked off.

To abruptly wrap up this story, the Hurricanes ended up winning the Cup in Edmonton in seven games. It was great to see the Hurricanes/Whalers franchise raise their first banner. Yep, I celebrated that one all by myself.
A great story about that 2006 team was Glen Wesley. Wesley played most of his career in Boston and Hartford, leaving for half a season to play with the Maple Leafs. It was his 18th year in the league and he finally had his ring. I don't think he was an exciting player or even great for that matter. But my impression was that he was a dependable defenseman. The picture above is of Hurricanes Captian, Rod Brind'Amour (The only player I know to have an apostrophe directly in the middle of his name!)

Moving onto this week. How can I be pumped about a playoff series when I haven't watched a game all season? The simplest answer is, "It's the playoffs…" Something about the NHL playoffs is so exciting that even casual fans have to watch. I grew up playing ice hockey and dreaming of being Ray Bourque as a kid. The playoffs are a journey: Four series, a couple of months, playoff beards. It is all so much fun. And the final prize is just the coolest looking trophy in all of sports.

The Bruins are the number one seed and the hurricanes are six. So the B's should have no trouble. But the Hurricanes have proven to be a tough team to beat in the playoffs. And with this being the first playoff series between these two teams since 1991, I hope it is a good one.

Did you know that the Hurricanes were the first team since 1939 to miss the playoffs the year before and the year after they won the Stanley Cup? (They also missed it the second year after they won)

During their Cup run in 2006, the Hurricanes were the only team in history to lose nine games in a year's playoff and still win the Cup.
I was looking at the Hurricanes Cup runs in 02 and 06. Both those years, they knocked off the New Jersey Devils. Once again this year they have. Could it be there year? I think the Carolina/New Jersey matchup has to be getting bigger and bigger.

Also this week I noticed that Paul Maurice is managing the Canes again! He was hired in 1995 by the Whalers and wasn't fired until 2003. I remember he was the youngest coach ever hired at the time. Well apparently in 2008 he was offered the job again. I love that when players or coaches go back to their former teams.

So I am disappointed that I most likely will not be watching the games. I do have a couple friends who may be able to get them at their house. But they will be on our TV's at 9am or taped and played later. By then, I'll know the outcome anyway.

With all that said, I'd like to wish my Bruins friends and family the best of luck. I hope your Stanley Cup dreams come true, and I don't mean having it shipped in from Colorado.

For my Hartford Whalers friends who despise anything to do with the Carolina Hurricanes (which really I have no friends that qualify for this), enjoy your current AHL team the Hartford Wolf Pack.
And for those NASCAR lovin' CAROLINA HURRICANES fans, lets beat up on them Bruins this weekend! The 18 year old me would want you to...
References:
http://en.wikipedia.org/wiki/Carolina_Hurricanes
http://en.wikipedia.org/wiki/Hartford_Whalers
http://en.wikipedia.org/wiki/Boston_Bruins